Soil and Terrain Database (SOTER) for Nepal
The Soil and Terrain database for Nepal primary data (version 1.0), at scale 1:1 million (SOTER_Nepal). SOTER_Nepal is generalized from the original Soils and Terrain database of Nepal at scale 1:50,000 compiled by FAO and Nepal's Survey Dept. The SOTER_Nepal database provides generalized information on landform and soil properties at a scale 1:1 million. It consists of 17 SOTER units, ... characterized by 56 representative and four synthetic profiles for which there are no measured soil data. The SOTER database includes also attribute data of 99 profiles initially selected as references to soil components that have already a representative profile.
SOTER forms a part of the ongoing activities of ISRIC and FAO to update the world's baseline information on natural resources.The project involved collaboration with national soil institutes from the countries in the region as well as individual experts
Simple
Date (

Revision

)

2006-11-01T09:25:00
Edition

V1.0
Presentation form

Digital map
Purpose
Status

Completed
Maintenance and update frequency

Not planned
Keywords (

Theme

)

Calcium
Carbon
Cation Exchange Capacity
Electircal Conductivity
Nitrogen
Organic Matter
Soil Bulk Density
Soil Classification
Soil Depth
Soil Horizons/Profile
Soil pH
Soil Salinity/Soil Sodicity
Soil Texture
Soil Water Holding Capacity
Environment
soter
Keywords (

Stratum

)
Region (

Place

)
Region (

Place

)
Other constraints

Materials developed by ISRIC are copyrighted, all rights reserved. Reproduction and dissemination of such materials for educational or non-commercial purposes are authorized without any prior written permission from the copyright holders provided the source is fully acknowledged. Reproduction of materials for resale or other commercial purposes is prohibited without prior written permission of the copyright holders. Applications for such permission should be addressed to: Director, ISRIC - World Soil Information, PO Box 353, 6700 AJ Wageningen, the Netherlands or by e-mail to soil.isric@wur.org. ISRIC requests you to acknowledge use of our data; this will allow us to gauge the interest and usefulness of our services. Please refer to the dataset documentation for suggested form of acknowledgement and recommended citation. ISRIC kindly requests that you send us a reprint (or PDF) of any publication that uses data received from ISRIC World Soil Information. This will help us to determine the type and level of use of the data we distribute.
Spatial representation type

Vector
Denominator

1000000
Metadata language

eng
Character set

UTF8
Topic category

Geoscientific information
Supplemental Information

Dijkshoorn JA and Huting JRM 2009. Soil and terrain database for Nepal. Report 2009/01, ISRIC – World Soil Information, Wageningen, https://isric.org/isric/webdocs/docs/ISRIC_Report_2009_01.pdf
Reference system identifier

WGS 1984
gmd:MD_Metadata
File identifier

896e61f8-811a-40f9-a859-ee3b6b069733  

XML
Metadata language

eng
Character set

UTF8
Date stamp

2017-09-25T08:30:03
Metadata standard name

ISO 19115:2003/19139
Metadata standard version

1.0
Overviews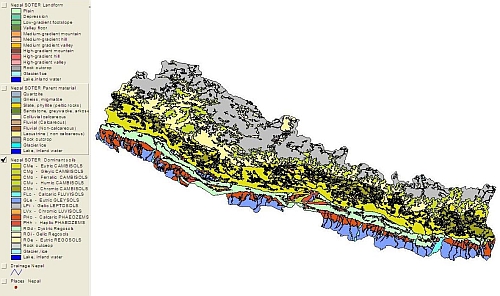 Provided by
896e61f8-811a-40f9-a859-ee3b6b069733
  Access to the portal
Read here the full details and access to the data.
Associated resources
Not available